ELEMENTS THC-CBD PRE-FILLED 1 GRAM VAPE CARTRIDGES $65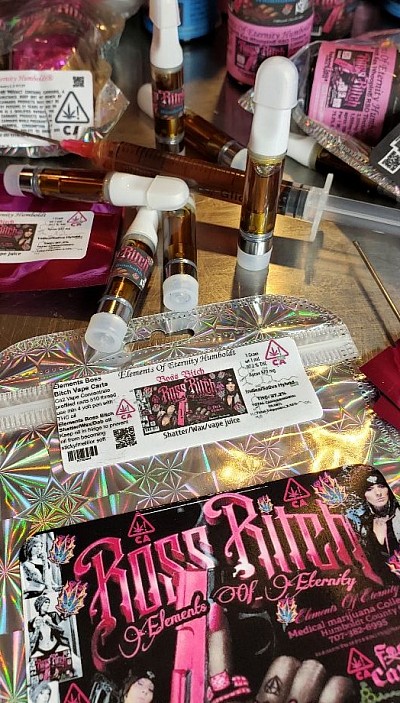 ELEMENTS HUMBOLDT 1 GRAM 870MG PRE FILLED THC GLASS VAPE CARTRIDGE $55
Elements of Eternity Pre-filled THC-CBD vape cartredges are 1 gram each, made with Elemets organic THC Elements Crystalline® My medicated THC vape juice is 87% thc  1 gram pre-filled GLASS tank cartridges,.. super proud of this creation,i put my heart and soul into this formula, perfect for chronic pain sufferers, nausea, restlessness, anxiety, insomnia, depression, and many other ailments,..thc crystalline used to make this Vape juice was made with Organic grown top shelf bud flower, that was turned into Elements thc/cbd  by our amazing chemist, using a very guarded techniqueWARNING MUST BE 21Elements  ®™ THC vape juice ,is EXTREMELY potent and only recommended for seasoned veteran smokers.. or start out taking very small puffs.... FLAVOR AND STRAINS WILL BE UPDATED OFTEN...EACH PRE-FILLED CARTRIDGE IS 1GRAM 900MG APPROX 400 PUFF'S PER TANK..MEMBER DONATION $65 EACH...FITS 510 THREAD BATTERY PACK FOR VAPE PENS
RECHARGEABLE 4VOLT VAPE PEN BATTERY PACK CAN BE INCLUDED FOR A ADDITIONAL $13
ELEMENTS ORIGINAL " HUMBOLDT BOSS BITCH"
1GRAM GLASS CARTRIDGE- 87%THC-870MG PER CARTRIDGE-
INDICA-
...MEMBER PRICE $65
ELEMENTS ORIGINAL "ADIOS MOTHAFUCKAH " 1GRAM GLASS CARTRIDGE- 87%THC-870MG PER 1 GRAM CARTRIDGE-INDICA /SATIVA- $65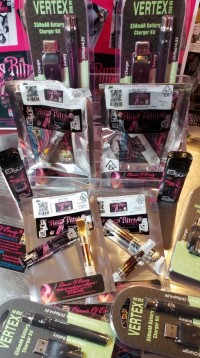 Elements of eternity THC-CBD Pre-Filled vape cartridges ​
1 gram 885mg thc per cartridge..Approx 400 puffs per 1 gram cartridge..How to use your vape pen
Step 1: Power Up
It's just like charging your phone—maybe easier. Both the Button-less Vaporizer and the Push Button Vaporizer are charged through USB port, so you don't have to worry about finding adapters while traveling and you can sit in the coffee shop with your laptop, quietly charging your vape pen without notice. When the light flashes, it's time to power up. Here's how:
Remove the battery from the oil cartridge by unscrewing.]
Connect the battery to the USB charger.
Plug it in and wait until the light turns green. (Sorry, this part requires patience! Order another cup of coffee and maybe even a pastry.)
Step 2: Assembly Required (Just a Bit!)
If you know how to pour yourself a drink, you know how to assemble a vaporizer. (And we're not talking fancy cocktails here.) This is all you have to do to assemble your vape pen:
Remove the rubber plug at the top of the cartridge. Set it aside. (Don't lose it!)
Screw the mouthpiece and battery onto your cartridge.
Tighten it again, just in case. (We don't want to waste any oil—that would be a shame.)
Step 3: OK We Get It—The Step You've Been Waiting For!!!
If you have the Buttonless or All-in-One Vaporizer…
Put the mouthpiece to your lips and draw in a deep breath for up to four seconds
Exhale quickly and thoroughly. (THC enters your system within seconds of inhaling.)
Wait a minute or two before inhaling again. If it's your first time ever (!), wait 10 minutes and take some deep breaths
Has it been 10 minutes and you still don't feel anything? Take a second drag and repeat the process.
If you have the Push Button Vaporizer…
Click x 5: Turn it on by pressing the button five times.
Click x 3: Adjust the temperature, depending on the density of your oil, by pressing the button three times each to shift colors. 0V (the lowest) is red, 3V is green, and 6V (the highest) is blue.
Click x 2: Preheat the oil by pressing the button twice. Don't go anywhere—it will be ready in 10 seconds.
Put the mouthpiece to your lips and draw in a deep breath for up to four seconds.
Click x 5: Done? (For now, of course.) Turn it off by pressing the button five times.
Whether it's your first vaporizer or your fifth one, take good care of it—don't let the dog chew on it, and don't let it accidentally leak into your pockets! We highly recommend investing in a small odor-proof vape case to keep your vape pen safe and hidden from busybodies.it could just be a simple hard-shell pencil case. Specially made vape cases also include elastic straps to keep everything organized. Here's how to disassemble your vaporizer:
Unscrew the oil cartridge from the battery and mouthpiece, and put the rubber plug back on.
Check for any leaks or spills. To clean, dab a q-tip with rubbing alcohol and gently rub over area. Wait until dry.
Gently place in vape case for next time.
If your pen starts to feel too hot, turn it off and let it cool down for a few minutes to avoid further oil burning.
Not vaping for a while? Place the rubber plug back on the bottom and store the cartridge upright in a cool, dark place.
Unfortunately, you can't vape underwater yet. Keep your vaporizer dry and away from rain and water.
For the best quality and flavor from your oil cartridges, use them up within 5 months of opening.
To clean your mouthpiece, avoid soap and water. Instead, dab a q-tip with rubbing alcohol and rub over the mouthpiece.
Even if you're a seasoned user, take your time between puffs! It's not a race, even though we're competitive at heart, too.
Always remember, the pen is mightier than the herb: oil cartridges typically have a higher concentration of THC than flower. Start slow and low if you're trying a new oil.
Cannabis oil is an extract made by mixing cannabis flowers with a solvent. After the flower has been mixed with a solvent, the extraction process removes the plant matter and leaves behind a sticky, oily substance that contains a high concentration of active compounds (like THC and CBD). Cannabis oil is highly concentrated and oftentimes has a much higher THC percentage than raw flowers.
TROUBLE SHOOT -
Charging your battery:
Screw battery into usb charger.
Insert USB into computer or other usb charging device. The USB light will change from red to green indicating a full charge. In some cases you may have to turn if off to charge it.
Unscrew battery from USB charger and unplug charger (this will help the lifespan of both)
Using your vape pen
Screw the cartridge on to the battery.
Turning on and off (batteries that have a button). Click the button 6 times at a rapid pace, the light will flash this will turn it on/off. If you hold the button down and there is no light, try turning it on or charging it.
Hold the button down when you inhale. If there is no button just inhale slowly. Tempetuare will have an affect one the oil in you pen so please store in a room temp in an upright position
Troubleshooting
Check to make sure the battery is turned on and has a charge.
If you are pulling but not getting a puff, and battery is on, unscrew the cartridge and twist the metal contact on bottom.
If you cannot pull and it feels clogged try a paperclip though the whole.
If all else fails we have a way to see if the atomizer is gone, bring it in and we'll check.
HASH OIL CARTRIDGES: FAQS, TROUBLESHOOTING & BEST PRACTICES


Hash Oil (or Honey Oil as it is sometimes referred) is oil that has been extracted from a Cannabis plant. At RX-C, we only offer oils that have been processed with Co2 or Ethanol methods, never Butane or other volatile chemicals, which may leave unwanted residues. Hash Oil is a nice alternative to flowers because it is virtually odorless, simple to administer, discreet and can be taken almost anywhere.

FREQUENTLY ASKED QUESTIONS


How long does a cartridge last?
On average, a ½ gram cartridge will last 10 days or ~200 puffs. How long it actually lasts depends on the user.

How does cost of Hash Oil compare to Flower?
It is quite economical, but the answer again varies by usage. It really depends on how often you use it. Many members prefer using the hash oil because it is more discreet and easy to use.

Can I refill a cartridge?
It can be done, but not recommended. The cartridges are intended for use until the hash oil is consumed. We do have members that refill their cartridges with our syringes and have had success. Please note that if you elect to refill a cartridge, you will void the guarantee.

Will elevation or heat affect my cartridge?YES!!!! Be sure to keep your cartridge out of direct sunlight, do not leave in your car on warm days. Also we have found major changes in elevation will affect the cartridge. There is a blue stopper under the tip, this can be removed when traveling by car, just be sure to keep the cartridge in a fully upright position or the oil will leak out, keep the stopper in a safe place and restore it properly before using it again.

My cartridge is leaking, what should I do?Leaks are common no matter how good or how much you spent on your vape pen, it is normal to sometimes have a little oil residue leak out between your cartridge and batter pack of the pen,,this is usually due to temperature change of the oil when THC-CBD oils heat up and cool down, it changes the consistency and structure of the oil, when cold oil will become thicker, when heated the oil will become more liquid, for example when you heat butter it melts in a liquid state, but once cooled it returns to its solid state, for this reason,, it is important for you to take care of your pen, never leave it in warm or hot cars or environments, ALWAYS KEEP IN A COOL DARK AREA..If you notice oil residue ,Immediately remove the cartridge from the battery, then clean the connection with a q-tip and rubbing alcohol,wipe pen clean and continue use...

Why does the oil change color?It is normal for the oil to darken as it is repeatedly heated and cooled. Just like a joint that is lit multiple times, the color and the taste will change over time.

How can I get the maximum use out of a cartridge?When you are unable to pull more oil, but you can see more inside, you can cut the cartridge open with sharp scissors and either scrape out what is left and dab it, add it as a bowl topper to your flower, or combine it with your favorite lotion for topical pain relief. It is sticky, so be prepared.

TROUBLESHOOTING CARTRIDGES


Cartridge Pulls HardAs the oil ages, it becomes darker and can also thicken. Because most of our cartridges are filled with 100% refined hash oil, with no additives, many can be very thick naturally. Add to that our extreme temperature fluctuations and it can make your cartridge temperamental.

If your cartridge is pulling hard, there are a couple of things you can do:

Ensure both your device and the bottom of your cartridge is clean so that the connection is solid (see best practices for more details).
Prep your device by pressing and holding the button for a count to 3. This will warm the oil a bit.
Boil water and place a small amount in a custard dish or mug. Remove the cartridge from the battery and place into the hot water, ensuring the water covers the oil, but not the top of the cartridge (do not fully submerge). Keep there about 2-3 minutes. Remove the cartridge and dry fully before reattaching to the battery. The oil will become more viscous and will burn more easily. No hot water available? Rub quickly between your palms for a couple minutes, the friction will warm up the oil.

Cartridge is Leaking

Immediately remove the cartridge from the battery.
Clean the connection of both the cartridge and your device with a swab dipped in rubbing alcohol.

Cartridge has Stopped Working

Is the oil covering the wick? If not, turn the cartridge TIP up until the oil fully covers the wick in the barrel of the cartridge. You can speed up this process by running the cartridge under very hot water for several minutes. Dry it thoroughly before reattaching to your device.
9 times out of 10, when a cartridge has stopped working, it is actually the device that is dead or malfunctioned,as there are no electronic pieces in the actual cartridge,please make sure your 510 thread vape battery pack is at least 4 volts, and fully charged..,. First ensure that your device is fully charged and operational. Does your device light as it should? Does another cartridge work on this device? If no, charge your device and try again.

BEST PRACTICES


Always store your unused cartridges TIP UP in a cool, dry place (pantry conditions are best).FOR BEST AND PROPER CARE, take cartridge off battery pack off after each use,place rubber stopper back on and store in dark cool pace...

Once ignited, always keep your device and cartridge in an upright position (TIP UP). We suggest placing in a cup/mug.NEVER TILT OPEN CARTRIDGE ON SIDE, IN POCKETS, CARS, OR IN HEAT ABOVE 70 DEGREES..

Do not leave your cartridge exposed in places where it will be subjected to extreme temperatures, such as your car or a windowsill.

Never put a cartridge on a device into your pants pocket. If you put it in your handbag, be sure to remove the cartridge or ensure the device is in the off position. Strongly recommend keeping your device and cartridge in a case.

Keep your Cartridge and Device Clean. You should periodically clean your device and cartridge. Simply remove the cartridge from the device, and wipe the connection points with a swab dipped in alcohol.


GOVERNMENT WARNING: THIS PACKAGE CONTAINS MARIJUANA, A SCHEDULE I CONTROLLED SUBSTANCE. KEEP OUT OF REACH OF CHILDREN AND ANIMALS. MARIJUANA MAY ONLY BE POSSESSED OR CONSUMED BY PERSONS 21 YEARS OF AGE OR OLDER UNLESS THE PERSON IS A QUALIFIED PATIENT MARIJUANA USE WHILE PREGNANT OR BREASTFEEDING MAY BE HARMFUL. CONSUMPTION OF MARIJUANA IMPAIRS YOUR ABILITY TO DRIVE AND OPERATE MACHINERY PLEASE USE EXTREME CAUTION"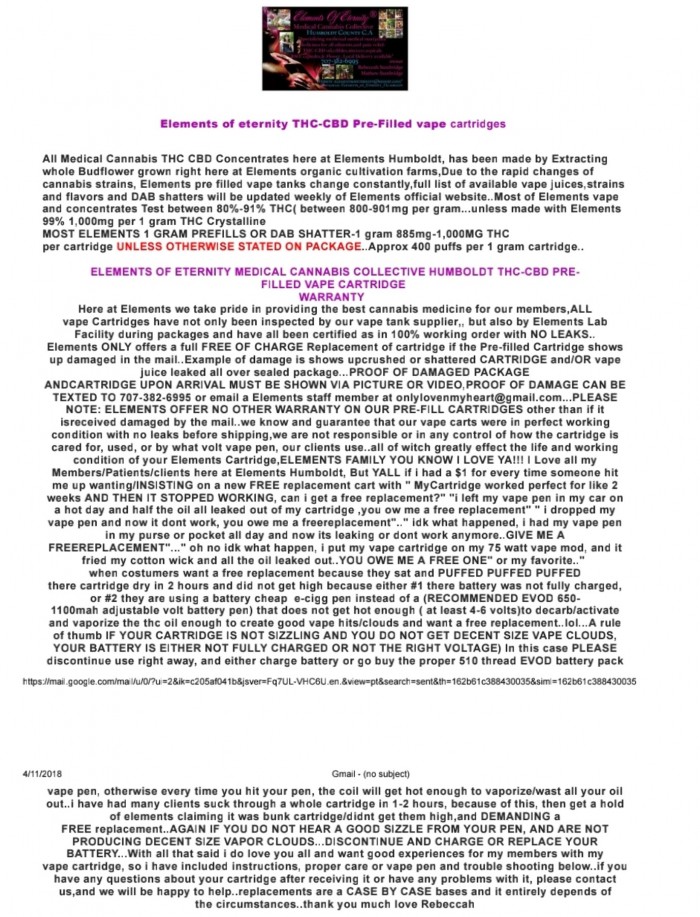 Elements of Eternity Humboldt ONLY offers a full 100% replacement Vape cartridge if received crushed, or damaged, as stated in elements instructions and guarantee pamphlet that came with your pre-filled Vape cartridge proof of damaged goods upon arrival must be shown via photos... elements does not offer exchanges or refunds of our Vape cartridges for reasons such as
- you do not like the flavor
- pre-filled Vape cartridge work fine then stopped working
- pre-filled Vape cartridge too harsh on throat or lungs ( if this happens lower voltage or wattage on vape battery pack)
- not getting large Vape clouds ( refer to your voltage on battery pack, as all pre-filled Vape cartridges and batches are, and with proper battery pack and vape pen elements pre-filled Vape cartridges create large fluffy potent clouds)
- Vape cartridge leaks after using( all elements Vape cartridges are tested for seal and leakage before leaves facility, once Vape cartridge leaves our facility it is user's responsibility to properly store and use and use proper voltage and wattage battery packs, as the way a person stores, carries pen, or if persons battery pack gets too hot can cause Vape oil too burn too hot, fry coil pack, burn cotton wick, and cause leakage)
- not potent AKA not getting high _ this is entirely a tolerance and battery pack issue, as all elements products and vape juices are lab tested, and no two people metabolize THC products the same, smoking your elements pre-filled Vape cartridge out of proper vape pen battery pack is extremely important, as 2-week of a battery or too strong of a battery pack will greatly affect the effects of our pre-filled Vape cartridges, please read instructions provided with your Vape cartridges carefully...